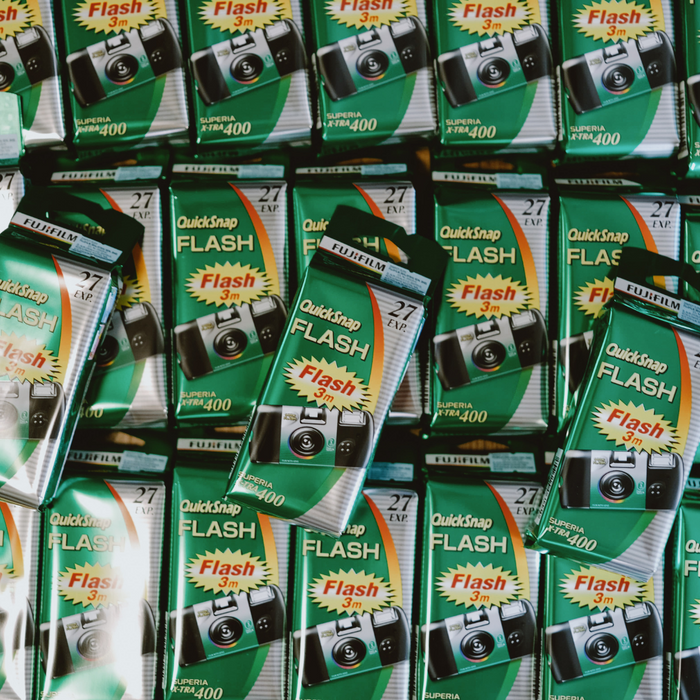 FUJIFILM QuickSnap Single-Use (Disposable) Camera - 27 shots, ISO 400
Original price
BND 32.00
-
Original price
BND 32.00
Discover the joy of photography with the Fujifilm QuickSnap Disposable Camera. Perfect for events, parties, or just capturing spontaneous moments, this camera is designed for one-time use, making photography simple and enjoyable. Here are the key features that make the QuickSnap an ideal choice for capturing memories:
Easy to Use: The QuickSnap is a one-time-use disposable camera, pre-loaded with film, ready to capture your moments right out of the box
Film Quality: Comes with ISO 400 35mm film, ensuring bright and vivid results in various lighting conditions​
Lens and Focus: Equipped with a 32mm f/10 fixed-focus lens, the QuickSnap makes photography straightforward and fun​
Shutter Speed: With a shutter speed of 1/125 sec or 1/100 sec, capture clear and sharp images effortlessly​
Flash: Built-in flash with a 3m range, perfect for indoor or outdoor photography, even in low light conditions​
Exposure Count: Each camera is loaded with a roll of 27-exposure film, providing ample opportunities to capture a full day's worth of memories​
Compact Design: Its compact body makes it easy to carry around, ensuring you never miss a moment worth capturing​
Outdoor and Indoor Photography: Whether it's sunny or slightly overcast outdoors, or you're capturing moments indoors (with flash), the QuickSnap is ready for it all​
The Fujifilm QuickSnap Disposable Camera is your go-to choice for uncomplicated, fun photography. Its user-friendly design and built-in flash make it a fantastic option for capturing memories at parties, events, or anywhere else your adventures take you. Grab a QuickSnap, and start creating lasting memories today!