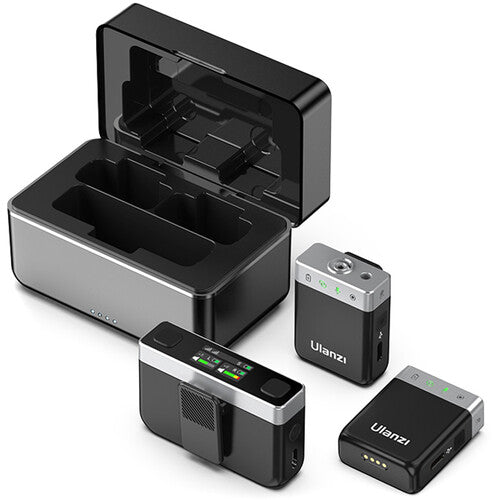 ULANZI U-Mic AM18 Wireless Lavalier 2-Person Microphone System A018GBB1 - 2 mics, 1 receiver, charging case
Original price
BND 168.00
-
Original price
BND 168.00
About This Item
Introducing the Ulanzi AM18 U-Mic 2-Person Wireless Microphone System – the ultimate audio solution for content creators, vloggers, filmmakers, and anyone looking to capture crystal-clear audio on their cameras and mobile devices. Say goodbye to tangled wires and audio hassles, and elevate your audio quality to professional levels.
Seamless Wireless Connectivity: The Ulanzi AM18 U-Mic utilizes advanced 2.4 GHz wireless technology, ensuring a stable and interference-free connection between the microphones and your recording device. Enjoy the freedom to move around without being tethered to your equipment.

Dual Microphones for Two-Person Recording: This microphone system includes two high-quality microphones, making it perfect for interviews, vlogs, podcasts, and more. Whether you're conducting an on-camera interview or recording a conversation, you'll capture both voices with pristine clarity.

Plug-and-Play Simplicity: Setting up the U-Mic system is a breeze. Just connect the receiver to your camera or mobile device using the included cables, power on the microphones, and you're ready to go. No complicated configurations or technical expertise required.

Outstanding Sound Quality: The U-Mic microphones deliver exceptional audio quality with a wide frequency response and low handling noise. Your recordings will be rich in detail and free from unwanted background noise, ensuring professional-grade results every time.

Long Battery Life: Each microphone features a built-in rechargeable battery that provides up to 6 hours of continuous use on a single charge. Plus, the receiver also has a long-lasting battery life, ensuring your recording sessions won't be cut short.

Compact and Portable Design: The lightweight and compact design of the Ulanzi AM18 U-Mic system makes it incredibly portable. Whether you're shooting on location or in your studio, you can take it anywhere without adding bulk to your gear.

Versatile Compatibility: This microphone system is compatible with a wide range of devices, including DSLR cameras, mirrorless cameras, smartphones, tablets, and more. It's perfect for content creators who use multiple devices in their work.
Upgrade your audio game with the Ulanzi AM18 U-Mic 2-Person Wireless Microphone System. Whether you're a solo creator or working with a partner, this system will ensure your audio recordings are clear, professional, and hassle-free. Say goodbye to audio problems and capture the moments that matter with precision and clarity. Order yours today and take your content to the next level!
Don't miss out on this opportunity to enhance your audio quality – order the Ulanzi AM18 U-Mic 2-Person Wireless Microphone System now and experience the difference for yourself!