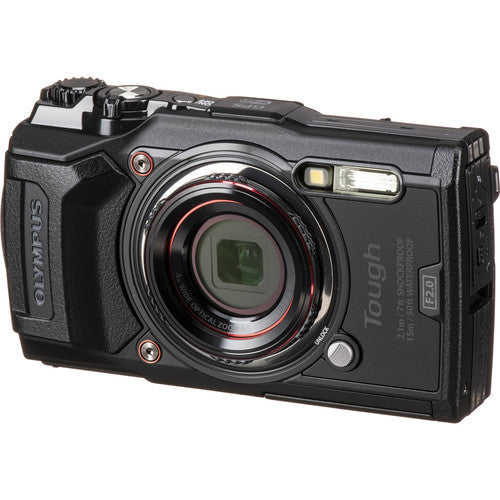 OLYMPUS Tough TG-6 Digital Camera (Black)
Original price
BND 768.00
-
Original price
BND 768.00
About This Item
Rugged Durability:

The Olympus Tough TG-6 is built to withstand the harshest conditions. Its robust design is waterproof up to 50 feet (15 meters), shockproof from 7 feet (2.1 meters), crushproof up to 220 pounds of force, and freeze-proof down to 14°F (-10°C). Capture your adventures without worrying about your camera's safety.

12MP High-Quality Imaging:

The TG-6 boasts a 12-megapixel sensor and a versatile 25-100mm (35mm equivalent) zoom lens, ensuring stunning, detailed photos and Full HD 1080p video. Whether you're capturing underwater scenes or wildlife from a distance, this camera delivers exceptional image quality.

Advanced Underwater Capabilities:

Dive into the depths with confidence. The TG-6 offers underwater shooting modes, including Underwater Microscope Mode, which reveals the hidden beauty of the underwater world. Capture vivid colors and intricate details beneath the surface.

4K Video Recording:

Record your adventures in stunning 4K resolution at 30fps or shoot high-speed Full HD 120fps video for smooth slow-motion playback. Create captivating videos that bring your experiences to life.

Versatile Shooting Modes:

From macro photography to starry nights, the TG-6 offers a range of specialized shooting modes, including Microscope Control, Pro Capture, Live Composite, and more. Adapt to various shooting scenarios effortlessly.

Built-in GPS and Field Sensor System:

Track your adventures with built-in GPS, compass, and temperature sensor. Record location data and environmental information to enhance your storytelling and share your journey with precision.

Bright F/2.0 Lens:

Capture sharp, well-exposed photos in low light and challenging conditions. The TG-6's bright F/2.0 lens allows for better low-light performance and beautiful background blur.

RAW Capture:

For advanced photographers, the TG-6 offers RAW file support, allowing for greater post-processing flexibility and image quality enhancement.

Variable Macro System:

Get up close and personal with the Microscope Control mode and four macro shooting modes, including Microscope, Microscope Control, Focus Stacking, and Focus Bracketing. Explore the miniature world with astonishing detail.

Built-in Wi-Fi:

Share your adventures instantly by connecting your camera to your smartphone via Wi-Fi. Transfer images and control your camera remotely using the Olympus Image Share app.
The Olympus Tough TG-6 Digital Camera in Black is the ideal companion for adventurers and outdoor enthusiasts who demand superior image quality and rugged durability. Capture your journey's highlights, from breathtaking landscapes to underwater wonders, with confidence and precision. Get ready to explore and document your world like never before. Order your TG-6 today and elevate your photography game!