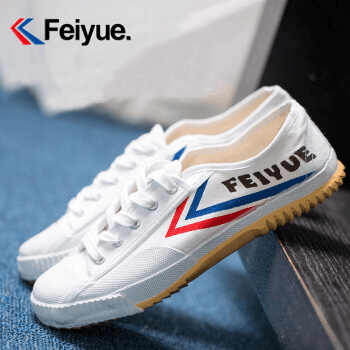 Feiyue China
Dubbed by US InStyles "a beloved streetwear staple" and Arab e-commerce site Souq as "cult items" FEIYUE 飞跃 first came to public attention outside of China in 2008, when Hollywood star Orlando Bloom wore Feiyue's classic line of sneakers when he was filming New York.

The 54-year-old Chinese brand favoured by Chinese martial arts practitioners and global parkour community have long been valued for their light and durable design rather than their look until recent years when it suddenly became a globally popular shoe wear.
 Today, FEIYUE are being worn by Chinese youngsters as a badge of pride, akin to the "Made in America" label in the United States. Call it Chinese retro.
Read more about the movement here.